Can Nervous System/ Neural Adaptations Increase Strength?
October 07 2009
We all know muscle growth will increase strength. But can nervous system adaptations contribute to strength?
Evidence for nervous system adaptations
Beginner's Strength: It is pretty clear that there is a disproportionate increase in strength during the early phases of training which cannot be explained by just muscle growth. In fact, there is little or no muscle growth during those early stages of a training program (8-10 weeks).
For example, everyone experience pretty big jumps in weight when you started weight training. Or you will see weights going up easily when you try a new exercise. But you will find you are not getting any bigger in that period.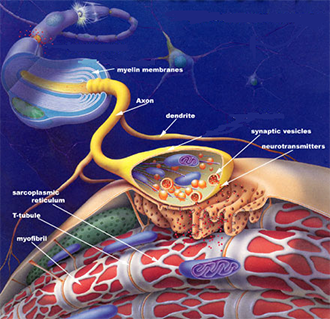 Disuse: As mentioned above, when you stop working out, there is disproportionate decrease in strength which cannot be explained by muscle loss. And this loss of strength is easily recovered with a few days of training.
For example, you will find yourself a lot weaker when you come back to lifting after you take a couple of weeks off . And you might have noticed that you haven't got any bit smaller or you that haven't lost any muscle to explain this loss of strength.
Transfer of Strength: It basically means the increases in strength in one task will not necessarily transfer to other tasks which uses the same muscle.
For example, if you use flat bench for your chest and one day if you change it dumbbell chest press, you will find the weights used to be a lot lower than flat bench though they both use similar muscles.
Unilateral Training: When you perform exercises with one leg, strength increases are seen in the opposite leg. The strength in the untrained leg may increase up to 22%. How cool is that? They call it "cross- education"
All the above give enough evidence to suspect the role of nervous system adaptations in increasing strength. The next article will talk a bit about the mechanisms behind these adaptations.
Related Articles
Commenting is not available in this weblog entry.
>