Can you Cure Diabetes?
December 21 2017
A short post on an amazing study showing some incredible results recently published in The Lancet - one of the leading medical journals.

Why worry about Diabetes?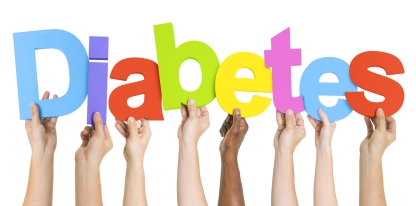 Diabetes: Diabetes is a disease that happens due to high sugar levels in your blood. In Type 2 diabetes, your body cannot absorb sugar from the blood because it cannot make insulin or use insulin well.

Some 'interesting' facts about diabetes:

almost 10% of the population in the US have diabetes; almost 34% are pre-diabetic (1 in 3 people)
90-95% of the cases are Type 2 diabetes
2-4 times likely to have a stroke or heart disease
number one cause of blindness, amputations, and kidney disease
seventh leading cause of death.
Why did they do the study?
Previous Studies: Previously studies have shown lifestyle interventions (weight loss, physical activity, and healthy dietary choices) can prevent or postpone type 2 diabetes in people who are pre-diabetic (high blood sugar but not diabetic yet).
Current Study: In this study, they wanted to see if weight loss could reverse diabetes in folks who are diabetic and taking diabetic medication. Is it too late for them?
What did they do?
298 patients (aged 20–65 years) diagnosed with Type 2 diabetes (within the past 6 years) and taking medications were allocated to a weight management program (n=149) or a control group (n=149)
The intervention group had a very-low-calorie weight loss diet 825–853 kcal/day diet for 3–5 months, followed by structured food reintroduction and weight loss maintenance phase.
This was a pragmatic trial meaning the intervention was offered by primary care doctors and not at specialized research centers as is often seen in big studies.
What were the results?

Diabetes was reversed in 46% (68 participants) of the treatment group and 4% of the control group (odds ratio 19·7). In other words, they came of their diabetic medication because they had diabetes no more! These results are very impressive, to say the least.

My comments?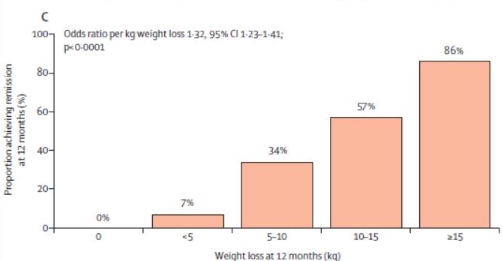 Weight Loss:As shown in the graph, Diabetes reversal was strongly associated with body weight or body fat lost. So weight loss should be the primary goal of treating diabetes.
Weight Maintenance: That being said, almost all weight loss studies have struggled when it comes to the weight maintenance aspect. So the real test is if they can keep the weight off and thus diabetes after 3-4 years.
Conclusions
At least based on this study, Type 2 Diabetes is not a permanent, lifelong condition.
If you are pre-diabetic or diabetic and don't want to take drugs, weight loss might be your best option.
Of course, consult with your doctor if you are planning to lose weight.
As always Exercise Biology will bring you the latest and most cutting-edge scientific news in exercise, nutrition and health.
Related Articles
>