Does Glucosamine Chondroitin Help knee and Joint Pain Due to Osteoarthritis?
October 09 2010
Glucosamine Chondroitin is the most popular supplement for joint pain. But does it really help?
What is osteoarthritis?
Osteoarthritis: Osteoarthritis (OA) is the most common form of arthritis that can affect the hands, hips, shoulders and knees. In OA, the cartilage that protects the ends of the bones breaks down and causes pain and swelling
.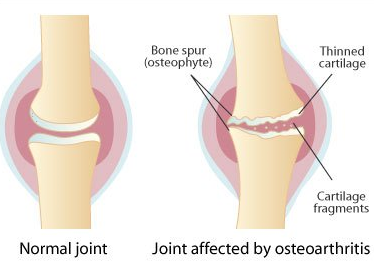 Why use Glucosamine & Chondroitin?
Glucoasmine Basics: Glucoasmine and Chondroitin are the building blocks of your cartilage and hence is believed to make up for the loss of cartilage.
Dosage: It can come in combination with other supplements (such as chondroitin), or by itself in the form of glucosamine hydrochloride or sulphate.  The usual dose recommended on packages is 1500 mg per day or 500 mg three times a day.
Why study again if it is already being used?
Benefits: The studies have been conflicting. Studies which shows a benefit used small sample size and had methodological flaws.
No Benefits: Larger studies with sound methodology shows no or small benefits.
What were the major study points?
Meta-analysis: It basically combines the results from a number of studies done on the same topic. It is kind of like a study of studies. So 3 studies of with 10, 50, 100 will be one big study of 160 subjects.
High Quality: All the studies selected were methodologically superior, large scale and blinded which wasn't the case of previous reviews. Out of 58 studies, only 10 (3803 subjects) made it to the analysis based on the inclusion criteria. Each study had to have atleast 200 patients.
Outcomes: The study looked at pain and joint space width (smaller joint space means more cartilage build up).
Trials compared chondroitin sulphate, glucosamine sulphate, glucosamine hydrochloride, or the combination of any two with placebo or head to head.Hence the name network meta-analysis.
Practical Applications?
Chondroitin, glucosamine, and their combination do not have any beneficial effect on joint pain or on joint space narrowing. Or just basically they don't work for joint pain due to osteoarthritis.
The supplement is not harmful and hence people who get some benefits can keep taking it if they have the money.
The industry-sponsored trials (Rotta brand) showed better results in pain and function than industry-independent trials. Guess why is that?
These results are consistent with the recent Cochrane Review 2009 on glucosamine and osteoarthritis
Related Articles
>