How Many Exercises Do You Need for Your Chest Muscle?
January 25 2009
How many exercises do you really need for your chest? Let's see what the chest muscle architecture tells about how many exercises you need for your chest.
Pectoralis Major & Minor: Pectoral major is the largest and the major muscle of the pectoral group, and hence the common name pecs for the chest. Pectoralis minor runs under the pectoralis major and is hidden.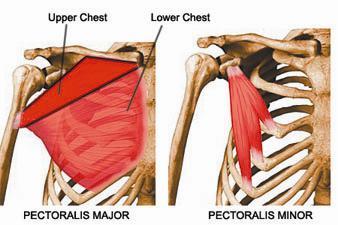 Though you see them as distinct muscles with distinct names, the point to be noted is that you cannot really isolate pectoralis minor or pectoral major.
Anytime you work your chest, you hit pectoralis minor & major equally well.
Upper & Lower Chest: Both upper chest (also known as clavicle head) and lower chest (known as sternal head) are involved in most exercises for the chest.
The fan-shaped architecture and different nerve innervations to both upper and lower chest make it possible to isolate upper chest fibers.
Clavicular head can be isolated by doing incline press or any movement where the arm is moved across your upper chest, like in incline dumbbell or barbell press or flyes.
If you are isolating upper chest, it does not necessarily mean that you are emphasizing upper chest. In fact, when you do any kind of incline movements you are de-emphasizing the lower chest. If you look at muscle fiber orientation, it becomes pretty logical that the lower chest has to be inhibited in order to keep the arm in that incline position. If the lower chest were to activate during an incline press, the bar will be pulled down by the lower chest fibers.
So a dumbbell or barbell or flye should be enough to hit both upper and lower chest effectively
Inner and Outer Chest: Whatever those bodybuilders say, you cannot emphasize or isolate inner or outer chest . If you look at the muscle fiber orientation, you will see it is impossible. It is just as lame as saying you can isolate upper and lower biceps.
The tight feeling or soreness you feel at the inner chest is due to the converging orientation of the fibers at the tendon and muscle attachment region.
Recommendations
You only need one exercise to target both upper and lower chest fibers
Incline movements, like incline press or flyes de-emphasize lower chest than emphasize upper chest.
You cannot isolate inner or outer chest. If you can, then you can make me pretty too.
Related Articles
Commenting is not available in this weblog entry.
>