How to Build and Stretch your Calf Muscle?
December 04 2010
You can emphasize the soleus or the gastroc with different exercise and stretches. Here we use the concept of active and passive insufficiency.
What are the different calf muscles?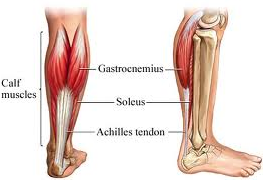 Gastrocnemius: Gastroc is the muscle which has two heads and is visible from outside as two diamond heads. Gatsroc has 2 functions: Bending the knee and raising your heel.
Soleus: Soleus lies beneath the gastroc and is not really visible. The soleus performs just one function of raising the heel as in calf raises.
How to build your soleus and gastroc muscles?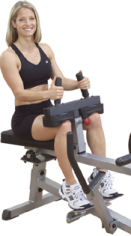 Seated Calf Raises: Seated calf raises target the soleus than the gastroc since gastroc is almost inactive during bent knee exercises.
The gatsroc is already used when the knee is bent and hence it cannot work to raise the heels. This is called the principle of active insufficiency.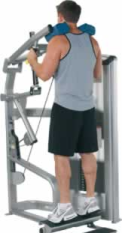 Standing Calf Raises: On the other hand, standing calf raises emphasizes both the gastroc and soleus equally well.
How to stretch your soleus and gastroc muscle?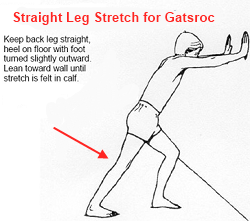 Straight Knee: Straight knee primarily stretches the gastroc.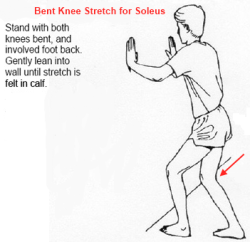 Bent Knee: Bent Knee stretches target more of the soleus since the gastroc muscle is contracted.
Practical Applications
Straight leg exercises target both the soleus and gastroc muscles. Seated calf raises only target the soleus muscle.
Straight knee stretches target the gastroc muscle while bent knee stretches target the soleus
Related
How To Make Your Ab Exercises More Effective
When You Should Change Your Exercises?
Related Articles
Brandon | Thu December 09, 2010
I like this I remember when I was not that knowledgeble on anatomy when I was learning anatomy I thought the stretch where you reach down to your toes with your hand was a calf stretch when in fact it is a hamstring stretch.
Anoop | Thu December 09, 2010
Thanks Mia for the comment.
Thanks Brandon for the comment. If you bring you head down you will feel the stretch more. This is because you are stretching the sciatic nerve too (the slump test). So at times it is the nerve that is tight and not the muscle.
Brandon | Thu December 09, 2010
Thanks Anoop is the nerve behind your knee because when I do this stretch this is where I feel the stretch is behind the knee thanks.
Anoop | Sat December 11, 2010
Yes. It stretches the sciatic nerve. That;s why you feel it more when you raise your heel and bring your head back.
Hayden | Fri August 05, 2011
Hey Anoop, Just a question regarding calf training and genetics. I have the misfortune of having high insertions. Do you have any advise on how to bring them up enough to look presentable? Or maybe know of some bodybuilders who also have this same genetic trait but has exceptional development?
Anoop | Sun August 07, 2011
Hi Hayden,
Steroids.
Just joking. Try a higher volume, a higher frequency and a higher rep range for 5-6 weeks.
coach | Thu October 13, 2011
It might sound weird but I have found skipping with a rope to be the greatest calf builder. I don't do anything else directly for calves other than the skipping rope.
Anoop | Sun October 16, 2011
Ho Coach,

Thanks for the comment.
If you blessed with some good calf, anything will work. This is true for most muscles.
>