Is Exercise or Cardio Exaggerated in Losing Weight?
April 11 2009
We know there are two ways to lose weight:
Exercise/ Cardio
Eat Less
But which is better? 99% of the people overestimate the ability of exercise (or cardio) to lose weight or/and underestimate the importance of diet in losing weight.
They have this notion that if they do cardio 3-4 days/week and eat a bit healthy (and of course eat small meals), they should just easily lose weight.
Is Exercise or Cardio Really Exaggerated in Losing Weight?
Exercise Studies: Research has repeatedly shown that exercise or cardio workout does a pretty poor job in losing weight. Believe it or not, most of the exercise studies ranging from six months to a year show a meager 1-12 lb weight loss. This is no where near to the "1-2 lb/week" we often hear about.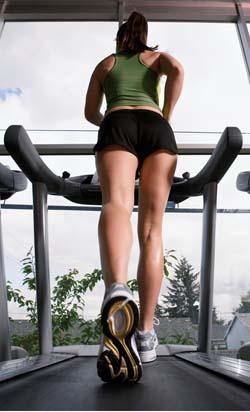 Exercise Studies Supporting Exercise: The couple of studies which did show greater weight loss with exercise had some brutal exercise protocol or had the participants restrict and monitor their diet. For example, one study showed 25lb loss in 5 months (around 1lb/week). And how many hours did the particpants have to train for this? An average of 29 hours per week (yes it's per week)
So Why is Exercise or Cardio Not Great For Losing Weight?
1 lb of fat= 3500 calories
That is, if you want to burn 1 lb of fat in a week, you have to burn 3500 calories with exercise/cardio in a week.
Now let's take the example of running since it's a lot more energy intense than biking, elliptical training or swimming. If you can run at a pace of 5-6 miles/hr, you will burn around 500-600 calories ( for 150-160 lb body weight). So if you run for 7 days at this pace, you will burn I lb of fat. And that's great. But the problem is that this never happens in reality. Why?
Too Intense: At least, 90% of the people who I see exercise at the gym do not even come close to an intensity of 5-6miles/hr pace. And people who can run at this pace, obviously, won't have a bodyweight problem in the first place. The same applies for biking, elliptical, stepping or whatever cardio workout.
Joint Problems: Folks who grind their teeth and somehow manage to run 7 days/ week will usually end up with knee pain, especially if they are overweight or obese.
Adherence: It is so hard for someone with a regular job and other priorities in life to exercise 6-7 days/week. Most people drop out soon. And this is clearly shown in exercise studies which show high drop out rates.
Body Compensating: When you lose weight, your body has a nasty habit of compensating by:
Increasing Hunger: The above weight loss of 1lb/week with running is assuming you are eating the same amount of calories day in and out.Have a small donut (300 - 350calories) - and you wasted 30 - 45min minutes of your running. If you don't keep an approximate count of calories you eat, it is so easy to overeat and compensate for all the calories you burned with exercise.
Decreasing Activity: You tend to sit around a lot more than you used to. In research they call it spontaneous physical activity. So you workout but come home and lie on the couch or watch TV or somehow try to move the least.
However, If you can magically overcome the problems above, you can lose weight with just exercise.
Conclusion
You can lose a lot of weight with just diet and no exercise/cardio.
A combination of diet and exercise/cardio is the best for weight loss.
Exercise/cardio becomes more important in maintaining the lost weight than losing weight.
Related
Related Articles
Commenting is not available in this weblog entry.
>