The 4-Hour Body by Tim Ferriss Review
September 04 2011
The 4 hour body is a New York Best Seller written by Tim Ferriss. Before writing this book, he was just another productivity expert with a book called "The 4 hour Work Week" in the New York Best Seller List.
. Here is the 4 hour body review.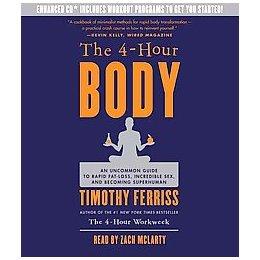 What are the claims in 'The 4 Hour Body'?
There are quite a few claims in his book, but I will review about this specific one: How Tim Ferriss gained 34 pounds of muscle in 28 days in a total of 4 hours in the gym.
Did Tim Ferriss gain 34 pounds of muscle in 28 days?
Muscle & Water : Before you start thinking about Tim Ferris' four hour body workout routine and diet review , you need to understand what constitutes 34 pounds of muscle. Tim Ferriss says he used hydrostatic weighing for testing. Hydrostatic weighing is the gold standard of body fat testing. Most body fat and muscle measurements are 2 compartment models - means they only recognize fat and muscle. But the point here is that when it means muscle it counts muscle, bones and water. So when people say they gained 20 lbs of muscle, it not just muscle tissue, it includes water and bones.

Natural bodybuilders gain 15-20 lbs a day after their competition because they eat a ton and put all the water back and more. If we measure them with hydrostatic, it will show that they gained 20 lbs of muscle! Can you believe gaining 15-20 lbs of muscle in a day? And Tim Ferriss is not a newbie when it comes to body fat loss and water manipulation. From his blog" In 1999, I was a gold medalist at the Sanshou (Chinese kickboxing) national championships in the 165-lb. weight class (here is a video sample of Sanshou). This is perhaps the most controversial accomplishment in the 4HWW, as I make it clear: I arrived the on-site at 187 lbs., weighed in at 165 lbs., and stepped on the platform to compete the next morning weighing 193 lb.

Now tell me how hard is for him to gain 34 lbs in 4 weeks if he can lose 22 lbs of muscle and gain 28 lbs muscle overnight?

Muscle Memory & 4 Hour Body review: This is a physiological phenomena which makes it easier to put back muscle or strength that you lost . It means that if you stopped working out for a few months or a year, you can easily put that same amount of muscle or strength that you had in weeks. Tim Ferriss writes in the 4 hour body about how he had weighed 197 pounds in 1996 and was easily the strongest he has ever been. Also how he has gained 20 lbs in 4 weeks in aleast 4 occasions. This is totally different from a beginner trying to gain 34 lbs of muscle in a few weeks.

High Intensity Training & 4 Hour Body review: What program did he use in the 4 hour body? He basically used an HIT program which has been around for years. I really doubt anybody bothers about HIT anymore besides a handful of HIT experts. I am not going to write what exactly HIT is since no one really knows what exactly is HIT. Every HIT expert has their own version and their own science (and philosophy when they run out of science)to support it. For example, Arthur Jones prescribed 14-16 exercises solely using machines, Mike Mentzer took it to the extreme with 3-4 exercises for 10-14 days and Ellington Darden - Arthur Jone's assistant who is currently the modern voice of HIT - reccommends 7-12 exercise per routine, 2 days per week and includes both machines and free weights. Just to show how HIT experts make their own rules, Ellington Darden - the most famous of HIT experts - now recommends Not To Failure sets (NFT). This is called taking a complete u-turn in your philosophy considering the whole philosophy of HIT is based on 'going to failure' with just one set. Darden also thinks that most HIT enthusiasts have gotten carried away by prescribing very few exercises like 3-4 exercises and very low frequency like once a week. Tim Ferriss' workout uses 3-4 exercises and even goes to recommend once a week frequency further into the program. So who are we supposed to believe? Tim Ferriss who base his 4 hour body book writings on Arthur Jones or Ellington Darden who is the most famous HIT expert second to Arthur Jones?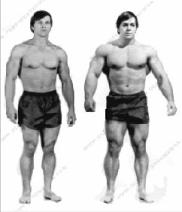 The Colorado Experiment & 4 hr body review: And how was Tim Ferriss convinced that he could gain 34 lbs of muscle? He read about the infamous Colorado experiment conducted in May 1973 by Arthur Jones with a bodybuilder named Casey Viator (in picture). The claim is that Casey gained 64 lbs of muscle. Just remember that Casey Viator had almost dropped 33 lbs of muscle due to an accident and allergy, wasn't training for almost a year before the experiment, and was on steroids previously. Nobody has ever been able to replicate that much of muscle mass in a short period of time. I am sure someone will if they stop training for a year, had used steroids, and dropped almost 35 lbs of muscle before they started the experiment.

Science & 4 hour body: I love how the 4 Hour Body has a Chapter called "spotting Bad Science" at the end of his book. I whole heartedly agree with everything he had to say about the problems with observational studies, lack of control groups, the funders having vested interested and such. But I don't understand how he couldn't find the reviews (atleast 2) which concludes that multiple sets are better for muscle (& strength) in both trained and untrained. I thought it was funny how he quoted just one study published in some online journal and writes how the author of the study incorporates '112 sources to answer the question', but then later we have chapters about spotting 'bad science'.in his 4 hour body book

Some of his diet rules like avoid fruit, milk and white flour like plague are just the typical fear mongering and bad science that most diet authors are known for. He writes that his 4 hour body book is a result of thousands of hours of 'jaw dropping personal experiments'. And I ask what makes his approach so different from other fitness experts and diet gurus? They all think it works for everyone because it worked for them, they all have a before after picture, they all have plenty of anecdotes & philosophy, and they all think that the conventional wisdom about diet and muscle growth is just dead wrong, and guess what they all get results in 4-6 weeks too.
The 4 Hour body book, the incredible claims, and the philosophy is no different from any one of those hundreds of diet and muscle books out there.
Related Articles
Joe | Fri September 09, 2011
Thanks for clearing that up Anoop!
TheDane | Sat September 17, 2011
If Tim Ferris is anything, its more of an expert in marketing. He is a genius in self-advertising. I regretfully bought "The 4 Hour Work Week" at some point. Figured out along the way that he definitely didn't spend 4 hours a week getting his book high on the sale-charts. More like 80.
But I digress… Thanks for the review Anoop. "Objective as always" is why I keep coming back here.
Fist Of Fury | Sun September 18, 2011
"My question is: Is there any research indicating where this plateau lies for the general population? And does this point differ for strength increases compared to hypertrophy? "
FullDeplex,
the Wernbom Meta-analysis that every man and his dog seems to be basing their hypertrophy routines on puts the sweet spot at about 40-60 reps per body part/twice a week (70-85% intensity)for anyone past the beginner stage.
I'm no expert at comprehending studies but when I read that paper I come away with the thought that it is still a bit of guess work. Sometimes 4 x week was better, sometimes 3, sometimes 2 and several times mentioned 'more studies needs to be done'?
The Rhea meta-analysis on strength gave a range of around 4-8 sets per body part/ twice a week with 80-85% intensities. The lower set range/intensity for intermediate and higher range for advanced athletes.
If it is true that 2-3 sets to be about right based on the Krieger study then put together with protein synthesis studies showing any where from 48-72 hours for beginners/intermediates to 16 hours in advanced for mps levels to return to baseline that would be a good case for HST or similar 'old school' programs with a lower volume but higher frequency over the long term.
Would like to know Anoop's thoughts too.
Anoop | Sun September 18, 2011
Thanks Dane for the comment!
I wanted to include that but decided not to bring up his shady marketing techniques. He has done a lot of outsourcing to get those 5 star reviews on Amazon. He even had big offers on his website for people to buy multiple copies of the book to drive up the sales.
Hi Fulldeplex,
Sorry I didn't get back to you sooner. I would say that's a good starting point.
And that's where the expertise and experience comes into an evidence based approach. You look at the age, recovery ability, experience, goals and so forth before you pick a number.
FullDeplex | Wed September 21, 2011
Hi Fist of fury,
I am familiar with the studies about optimum set ranges, but this is not what I meant.
You could say I ask about at which point "overtraining" sets in. I really don't like the term "overtraining", because of the added (contradicting) dogma around it by several trainers, like HIT and Bulgarian trainers. (two extremes)
I should have made this clearer by emphasising the 'and' in my sentence: "At some point there is no benefit what so ever to increasing sets AND further increasing the amount of sets would harm progress."
Rhea and Wernbom both show that strength and mass gain don't suddenly stop beyond the optimum set range, but gradually decreases.(at least for trained then) At which point do the results stop for trained individuals? Off course, it is important to state that training all sets to absolute failure will probably lead to zero improvements in strength and/or strength much quicker that non-failure sets.
All the comments Anoop made are valid, but I am looking for a range of "too much", not a single number. It is clear that these numbers will differ greatly between populations and individuals. Let say we only talk about 1-2 year weight-trained males between 25 and 45 years of age with normal recovery abilities (no drugs). Their goals are either strength or mass gain.
Brad Schoenfeld, MSc, CSCS | Sat September 24, 2011
Great job on this Anoop. Keep dispelling the mythology!
Brad
Anoop | Sat September 24, 2011
Hi Brad,
Thanks for the comment! I do appreciate it.
Will there ever be a good fitness book on the best seller list!
Brad Schoenfeld, MSc, CSCS | Sun September 25, 2011
Hey Anoop:
Hopefully my next fitness book

Brad
Erik Petersen | Wed December 21, 2011
I think Tim wrote another 4 hour book to keep the money rolling in from all the people supporting his previous 4 hour life and keep his good thing going. Good Gad, the super-slow Mcguff thing is more extreme stuff that is different enough from most other stuff out there as to ensure a nice and profitable niche! There are many ways to exercise and each may be valid for each individual at certain points within their lifespan in order to meet their goals and satisfy their unique selves. I get a kick out of "the only way" crowd.
Steve Parker, M.D. | Mon January 16, 2012
Anoop, I though about suggesting that you post your "Four Hour Body" review at the book's Amazon.com page. Unfortunately, there are so may reviews there that yours would get lost like a needle in a haystack.
Not sure how I found your blog. I'm enjoying it. Keep it up.
-Steve
Brian N. | Wed June 06, 2012
Great review, I appreciate the depth you took in reviewing this book. You are incorrect in one point of fact, Dr. Ellington Darden's HIT principle does indeed apply the tenet that all exercises should be applied to momentary muscular failure (MMF). Not to Failure (NTF) sets are only to be applied on a restricted basis and inconsistent frequency in order to prevent plateauing; you've incorrectly observed that NTF is to be applied at every exercise session.
>