About
EXERCISE BIOLOGY was created:
To help you lose weight, be muscular, stronger, and healthier by using an evidence-based approach.
To educate you about an evidence-based approach to health & fitness.
To foster a community to question and challenge current beliefs, unscientific practices and practitioners.
To critically analyze scientific studies in the realm of health and fitness.
The articles are usually divided into sections. If you are not bothered to read the how and why, you can read the introduction and directly jump to the Practical Application part.
If you have questions or need help, please join the forums and you can be rest assured to get the best answers you can possibly find.
About Me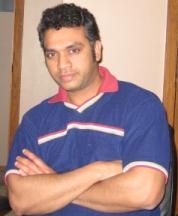 My name is Anoop T. Balachandran. I have a Master's in Exercise Physiology from Southern Illinois University Edwardsville, and another Master's in Human Performance from University of Florida Gainesville. and a Ph.D in Exercise Physiology from Univ. of Miami, Florida. I am also an American Council of Exercise (ACE) certified personal trainer and NSCA Certifiied Strength & Conditioning Coach.
I know qualifications and certifications mean little in any field. But I just couldn't help write it down. As you might have guessed, I am pretty passionate about health and fitness. And I would credit a lot of this to my brother - Vijay Balachandran.
My main areas of interests are muscle growth, improving physical function/body composition in older adults, and using an evidence based approach. I do, however, try not to miss anything on nutrition, functional training, power lifting, physical therapy, weight loss, or just anything related to strength and fitness.
If you care to notice, all my articles are evidence-based. I don't think we need more fitness articles based on opinions and anecdotes - we have plenty. I also have around 12 years experience working as a personal trainer (and still do). Also worked as a Health & Fitness Coordinator for the University of Wisconsin-Stout for 5 years. Currently, doing a post doctorate in the Institute of Aging at the University of Florida, Gainesville. Thank you
My articles on other websites:
Accolades
Peer-Reviewed Publications